Do you know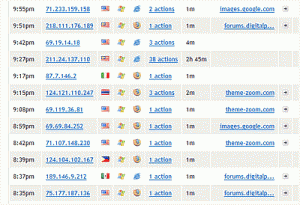 I prefer using Google analytics, it is robust and fully integrates with Google webmaster tool. Another great tool is Clicky, I use it to track and analyse my blog real time. It has a free and paid version.
There are certain metrics you need to look out for when analysing your blog traffic; it helps you understand how your blog visitors find your blog and their frequency, preference and interests. Pay attention to the terms below.
Bounce rate: This is an important metric to look out for it summarises how relevant your site content is to the visitors. If a visitor comes in then leaves at almost immediately it tells a lot about your contents relevance. Great and relevant content have lower bounce rate.
Demography: Having a good idea of your visitor's age, sex, race, occupation and income gives you an idea of your target visitors. Focusing offering to them increases interaction and repeat visit.
Entry Page and exit page: The entry page is the first page your visitor interacts with, while the exit page is the last page your visitors interact with.
Keywords: The keyword usually comes from the search terms used by visitors from the search engine to locate your blog. The keyword helps you to determine the terms used to search for your blog or post.
Location: Where are your visitors coming from? In case you want to do an ad campaign this will help you focus on regions or locations where you receive the most traffic?
New vs. returning visitors: Are you getting more new visitors or you having more of returning visitors? More new visitors means you are doing less to retain your visitors, while more returning visitors means you are working on new visitors. A balance is quite ideal.
Number of visits: How many visits do you receive daily, weekly, monthly and yearly? The numbers matter, but does not translate to profitability. Understanding your niche and keyword search volume can give you an insight to the amount of visit you get.
Page drill: Get a precise flow chart of your visitors path on your blog, it tracks the pages visited in the order of visit. You can easily determine relevant post or content your blog visitors might be interested in.
Page views: The number of pages the visitors view per visit is a good metric indicating interest in your blog or post. More page views per visit is a plus to your blog.
Referrals: You need to know who is referring visitors to your site, is it from the social media, other blogs, social bookmarks, e-mails, comments or forums. It is encouraging to see a channel referring visitors to your site.
Source: Where are the visitors coming from, there are three potential sources, direct traffic, search engine and referrals. An analysis of this will give you an insight into the source that delivers the most on traffic and how reliable your efforts have been so far.
Time on site: A visitor might visit 5 pages on your site, and flip through each page visited. You will like to know the time spent on each pages, and how long your visitors spent on your blog. A relevant or interesting blog may have visitors spending more time on the blog.
As explained above you need to how to analyse and track your blog or website traffic to obtain a good knowledge of your blogs performance and relevance.
Clicky will provide you with a full and comprehensive real time analysis per visitor. It will help you understand your visitors more. Google analytics can be linked to your adword campaign and Google webmaster tool. You can add this two great service into your blog.
Resources:
–         Google Analytics
–         Clicky
–         Google webmaster tool